I've just submitted my first app to Apple since stepping out as an indie developer, called 'Today'. It's a calendar app that's designed to make it incredibly easy (and elegant) to figure out what you've got coming up, with detailed information about todays events, summarised information about tomorrow and the day after, and super-summarised info about the week after that.
At this stage, all I can show you is the icon done by the incredible Lisi: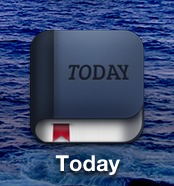 Soon I'll start work on the promo-site for the app, and start my marketing efforts. The app should be out in a couple weeks.
Wish me luck!
Thanks for reading! And if you want to get in touch, I'd love to hear from you: chris.hulbert at gmail.