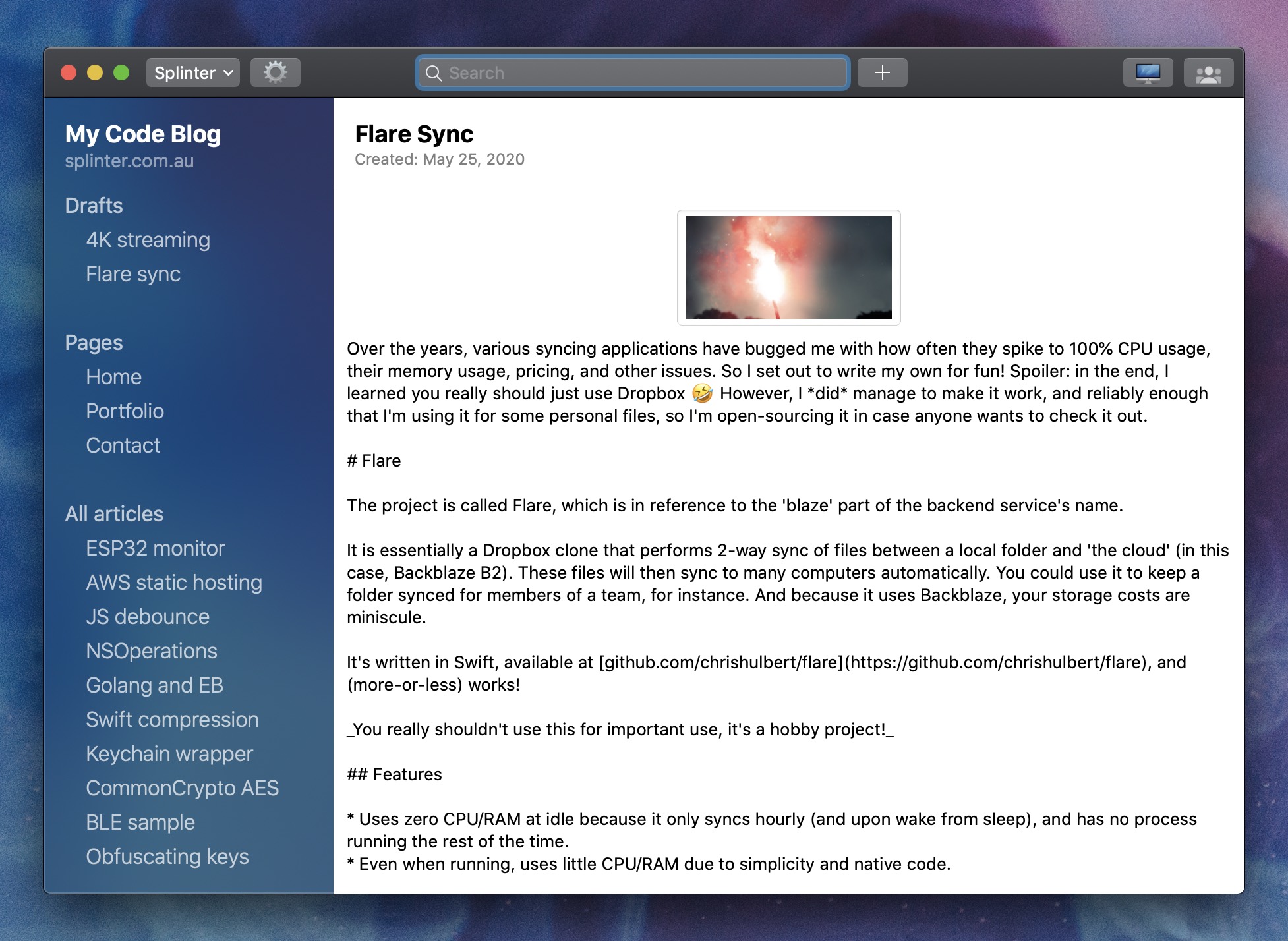 Would you be interested in me creating a native (macOS maybe?) desktop app that would manage your blog, geared at developers? I've been struck by how, over the years, I've had so many great work opportunities that have come my way through tech blogging, and how so few developers do it - surely they should, and if it was easier, maybe they would?
Please let me know, I really want to know if it's worth investing time and effort into this, if it seems like an idea that could help people or if it would just be a waste of time and effort.
So I've created a prototype (the screenshot was above) for what I'd like to call 'Chalkinator'. Basically with it you'd set up your site, choose your template, manage your posts, and voila you have a tech blog.
It would manage the hassles of organising your AWS/Cloudflare hosting so your blog would basically cost zero to run (unlike say Wordpress where reputable hosting costs a bit for a hobby blog), and wouldn't slow down under load.
It wouldn't be complicated like using Jekyll or Hugo or managing AWS hosting yourself, because I don't think many people have endless hours they can waste getting their blog working.
I've used plenty of blogging platforms over the years. And when I've blogged for over 10 years it has become apparent that you need something that'll stick around, otherwise you face painful migrations every few years. This is why I'd charge monthly instead of one-off, this is a win-win for customers and me: Customers get an app maintained in perpetuity, and I get to pay my bills in perpetuity.
It wouldn't necessarily be only for developers, but it would be geared that way.
Code highlighting would 'just work' out of the box without any plugins. I imagine you'd write in Markdown and certain indents would automatically be treated as code.
macOS native perhaps, or maybe cross-platform - I'm not 100% clear on what would be best here to be honest, and would love to hear your suggestions.
So what's with the bizarre name? Well, the thesaurus came up with 'chalk' as a synonym for write; my kids love watching 'Odd Squad' where agents use their gadgets to solve all sorts of weird problems, and all the gadgets end with 'inator'… and so, this crazy portmanteau was born :)
Anyway I repeat, please let me know if this is a good idea or not. You can get in touch at [email protected]. Thanks for reading :)
Thanks for reading! And if you want to get in touch, I'd love to hear from you: chris.hulbert at gmail.